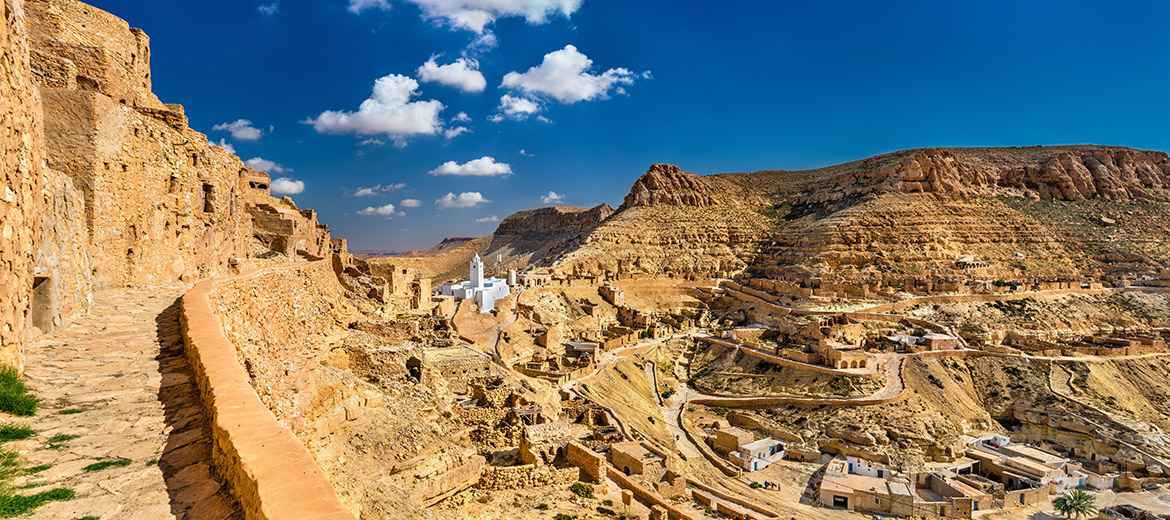 Cultural and gastronomic tours, enjoy a guided tour in the Chenini village
The magnificent Chenini village is located on a rocky mountain in the south of Tunisia offering a natural landscape and beautiful side by side houses. A breathtaking experience we share with you through a guided tour, a surprising village with opened doors for a unique meeting or a professional event.
The Chenini village is a perfect place to organize cultural and gastronomic tours. Our employees can assist you with the right services for a guided tour to help your guests discover and enjoy the village experiencing a memorable journey in the famous lodges that international media talks about.
Why choose Chenini village? Why is it a perfect place for your professional events?
The village is absolutely worth visiting. Well known for its Amazigh history where an old-fashioned lifestyle and ancestral heritage are preserved by the villagers, the Chenini village evokes a tunisian cultural treasure.
Impressive Tunisia helps you discover this beautiful and unique spot organizing your events and your professional team outings in a way you can enjoy an exceptional cultural trip.
For a professional meeting or a corporate event, our professional team provides event management services that meet your expectations so that you can fully appreciate the moment.
Guided tours in the Chenini village are also organized to help the group learn about the village's history and impressive culture. Tasty dishes, rich with spices and local ingredients, are served as well.
Our employees provide you with expertise, professional advice and customized services. You can rely on the Impressive Tunisia team for an exceptional cultural and gastronomic tour.