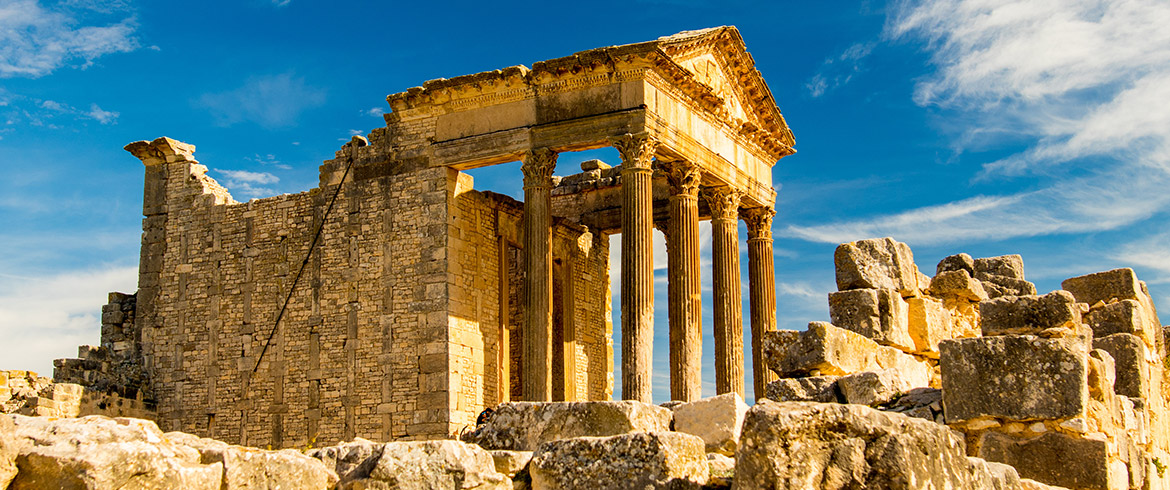 Impressive Tunisia helps you discover the breathtaking Dougga
The archaeological site of Dougga is one of Tunisia's must-see places. The city, known for its magnificent and well-preserved monuments, allows you an exceptional journey through time. The theater, the Capitol, the Temple of Caelestis, the thermal baths or the famous forum, ruins that illustrate a well engraved memory in human history, still stand in Téboursouk in the North-West of Tunisia.
Impressive Tunisia, helps you discover the ancient Roman city and offers you customized tourist and cultural tours.
Our tourist guides are glad to introduce Dougga to you and to accompany you in a beautiful encounter around the fascinating history of the city which was once an impressive little piece of the Roman Empire.
This ancient city, Dougga, is simply fascinating and certainly worth visiting and spending a whole day there. Thanks to the significant dimensions of the monuments, the outstanding state of preservation of the archaeological site, the magnificent landscape and the pleasant environment of the historic city, all you have to do is take the time to enjoy a walking tour in the archaeological site full of secrets and mystery and to learn about the culture and the way of life of the ancient inhabitants.
To enjoy a day in a good mood, full of enriching exchanges and fabulous discoveries about the early history, count on our professional events experts and trip planners and benefit from services that meet your expectations.