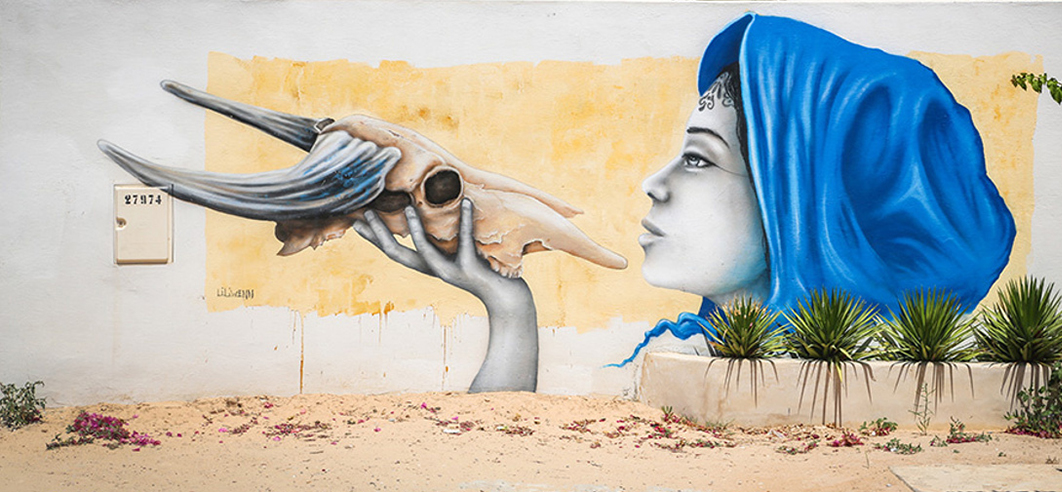 Djerbahood, enjoy a day in the sun in an open-air street art exhibition
At 500 square kilometers, Djerba is a charming paradise in the south-east of Tunisia. The island brings together admirers from all over the world spreading a culture of tolerance and peaceful coexistence.
Djerba is the best destination in Tunisia to spend your carefree all inclusive vacation. The benefits of the island are endless, to name a few: magnificent beaches, white sand, clear water, warm and sunny weather and pleasant temperature all year round.
Djerba is also an important cultural destination of Tunisia. Hosting countless art gatherings, exhibitions and special cultural events, the tunisian island celebrates culture as part of the contemporary art event Djerbahood.
On the road to the ancient El Ghriba Synagogue, in the village of Erriadh, Djerbahood is a magnificent outdoor urban art exhibition. Street art murals bring together artists, gallery owners and collectors of contemporary art from around the world.
Impressive Tunisia provides you with high quality services during your stay on the island of Djerba. Whether you want to spend an unforgettable holiday or to share a moment of relaxation under the shining sun of Djerba with your employees, we offer rich programs and a variety of events showcasing the culture and traditions of the earthly paradise, Djerba island